2013 Bridal Jewelry Trends
Bracelets…lavalieres
Can they dry my tears?
Can they blind my eyes to shame?
Can the brightest brooch
Shield me from reproach?
Can the purest diamond purify my name?

And yet of course these trinkets are endearing,
Ha ha!
I'm oh, so glad my sapphire is a star,
Ha ha!
I rather like a twenty-carat earring,
Ha ha!
If I'm not pure, at least my jewels are!
2013 is shaping up to be a fantastic year already, don't you think!  Oh the options that are available to today's modern bride when it comes to jewelry!  You don't have to spend a fortune to get 2013 Bridal Jewelry Trends, you just need to know how to shop.  While our jewels may not be pure, they sure are pretty!!!  So what do the experts predict the HOTTEST 2013 Bridal Jewelry Trends will be?
The Persian and South Asian brides are NEVER shy about their jewelry.  These brides want a personalized look.  2013 Bridal Jewelry trends keep these brides wanting bold and beautiful styling, cool edgy designs with big stones and statement pendants.
At the other end of the spectrum, there is a trend towards jewelry that makes and impact in its simplicity as well.  The unique qualities are more vintage inspired with a handmade or quirky design using up-cycled and new materials.
There are a few areas where everyone seems to agree, Chandelier earrings will remain a hot in the 2013 Bridal Jewelry Trends.  Unusual stones like Opal and Tourmaline will be making a breakthrough down the aisle, as will pearls in uneven and unusual shapes.
Persian Bride
Statement Pieces
Go BIG and BOLD or go home.  Today's bride wants something personalized to make her stand out.  Any big stoned or statement pendant that compliments the style of her dress is a must have for a 2013 trendy bride.
Vintage Pieces

Vintage touches, as well as pieces that look homemade, have been showing up throughout all aspects of the wedding recently. It's an elegant way to accessorize your wedding ensemble.
Layers of pears, cameo necklaces and chokers are great necklace choices. For earrings, studs and drop earrings are the two pieces that remain true to the era. Vintage bracelets are usually delicate and dainty.
 Chandelier Earrings
This popular wedding jewelry trend is still lingering around from last year and isn't showing signs of going away anytime soon. The bigger and bolder the chandelier earrings, the better! They look especially good with a streamlined dress.
source: Bridal Fashionistas pinboard via Pinterest
Colored Gemstones
Brides are adding a pop of color to their all-white attire by incorporating colored gemstones as accessories. They're typically sticking to gemstone rings. What better way to accomplish "something old, something new, something borrowed, and something blue" than with blue gemstone jewelry?
Opals and Tourmaline Stones
source
Opals and tourmaline stones will be big throughout the entire jewelry industry next year and will look amazing in necklaces and bracelets. This is especially special jewelry is you have an October birthday, since these are the official birthstones.
Uneven or Unusually Shaped Pearls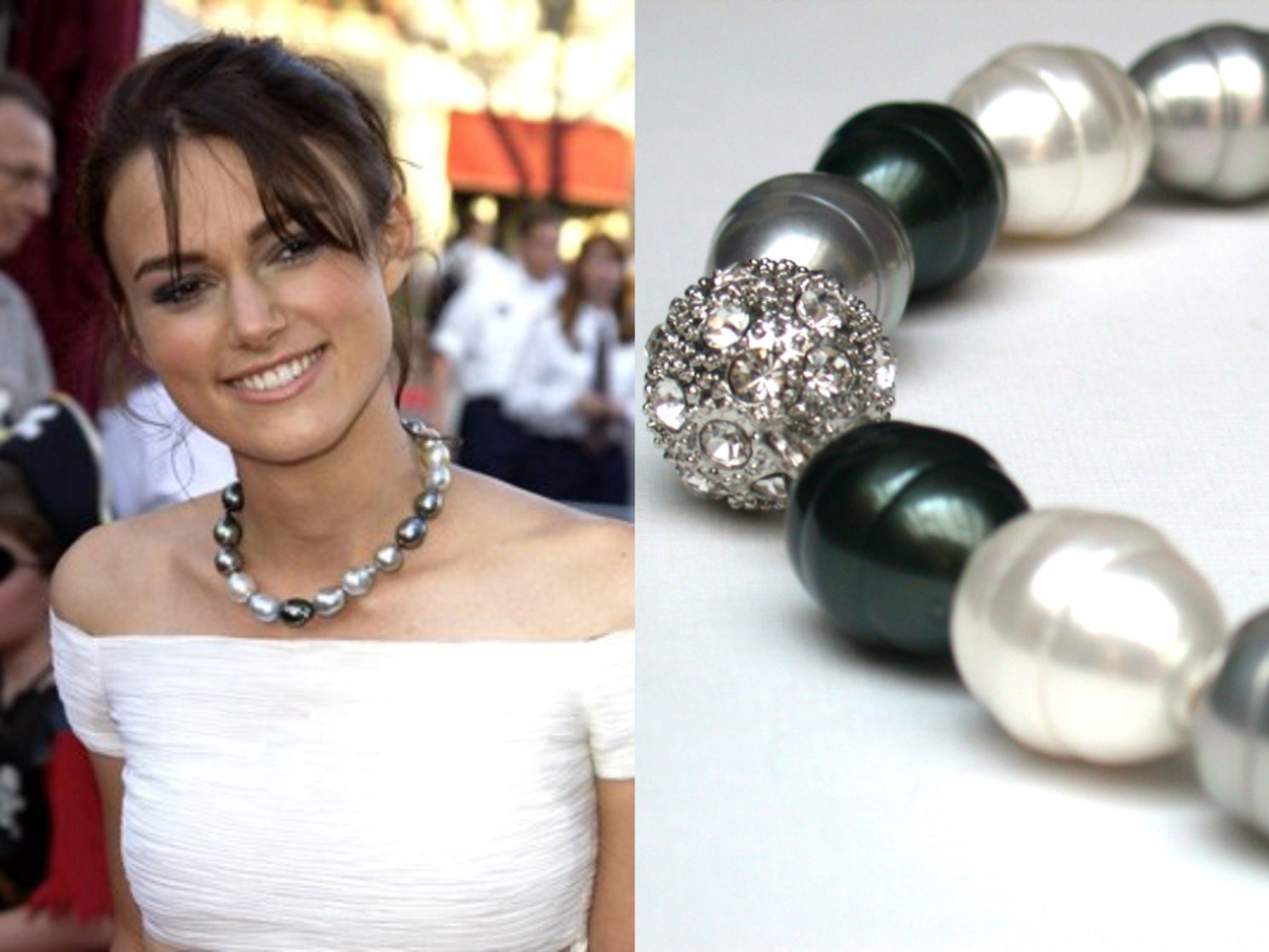 When we think of pearls, we think of the classic, round and simple strands of pearls. While these are a great and classic look, especially for the bridesmaids, irregular shaped pearls are showing up frequently on the runways. This is another great way to add a unique touch to the bridal look.
Jeweled Head Pieces
Barrettes, hair bands, tiaras and broaches pinned in place have been showing up all over the runways. Hair accessories are becoming all the rage, especially among younger brides, to add a whimsical effect to the bridal look.
South Asian Bride
South Asian brides are known for their beautiful and elaborate wedding day jewelry.  It's often hard to find the bride under all the adornments, and with the enormous selection to choose from, you can see why a girl could go a little overboard.  The secret to 2013 Bridal Jewelry Trends for the bride is balance.
Bold & Beautiful
Chunky, bold and big jewelry sets are HOT in 2013 Bridal Jewelry Trends.   Whether full sets or separates, like rings, earrings, and bangles,  or complete sets, the key is coordinating the color stones and the metal styling.  In other words, if you are looking at an antique style necklace, don't pair it with a set of modern earrings.  Also be careful check your bold jewelry for weight to make sure they won't be too heavy, or have extensions that go around the ear.
Sparkly Bling
Swarovski crystals make a strong 2013 Bridal Jewelry Trends appearance, from head to toe.  Crystals pair particularly well with dark colored saris and lehengas.  You could also opt for a rainbow of glittering Swarovski crystals in a fabulous necklace earrings set to match your dress.  And don't for get BIG finger rings and brooches!  Their unique motifs laid with stones will add an extra special touch to your ensemble.  Finally, micro stone set bangles are just what you need to finish off your 2013 sparkly ensemble and dress up your plain gold bangles.
Something Blue
Blue stones, beads and enameling made the 2013 Bridal Jewelry Trends.  Turquoise jewelry is a fantastic option for cocktails or sangeet.  Jump on the tourmaline trend and grab a big bold blue pendant for a breathtakingly beautiful necklace for your reception.